Plateau International together with our partners have selected some great value offers for your clients.
THE MICHELIN STAR FOODIE EXPERIENCE IN THE ALGARVE
algarve lifestyle
07 Days / 06 Nights
The Michelin Star Foodie Experience on the Algarve
Departure dates: From 10 January to 4 April 2019 (other departures dates on request)
From Euro 2,525 (net) per person
sharing a double room
Day 01 – Arrive at FARO
As the flight is approaching the Algarve, be transported by the fascinating views of the Ria Formosa lagoons with sandy bars blurring into the blue indigo sea; one of the 7 Natural Wonders of Portugal. After a short drive to Quinta do Lago, follow the flaming torches alley for a warm welcome at Conrad Algarve, modelled on an 18th century Portuguese palace built of stunning marble and designed on Moorish themes with striking interior designs, emphasising light, fire and water.
Day 02 – PRESTIGIOUS WINE TASTING & 1* MICHELIN BON BON
The day starts with a visit to Tôr, a typical Portuguese village, to learn about wine making and the opportunity to taste Algarvian wines surrounded by beautiful mountain views. In the evening, enjoy a sophisticated 6-course Mediterranean tasting menu with wine pairing at 1* Michelin restaurant, Bon Bon. Each dish is beautifully crafted in a modern and original interpretation with a respectful nod to traditional Portuguese flavour.
DAY 03 - SILVES TOUR & 1* HENRIQUE LEIS
A visit to Silves will take you back in time. This charming Portuguese town and ancient capital of the Algarve is rich in history which your private guide will unfold as you walk around the tiny cobbled streets lined with luscious orange and lemon trees, and learn about the Arabic influence in its architecture. Sample local tapas in an authentic "tasca". After this medieval experience, the evening provides an exciting contrast of atmosphere experiencing the 1* Michelin restaurant Henrique Leis, who embraces French cuisine enhanced by flavours of his South American homeland. A kitchen that celebrates the combination of elegance and emphasis on detail.
DAY 04 - GO KARTING EXPERIENCE & 2* MICHELIN VILA JOYA
Relive childhood dreams and feel the adrenaline of karting at the biggest circuit on the Algarve. At night time, be prepared to experience an exclusive culinary experience at Vila Joya, considered one of the best restaurants in the world. The Chef's Table experience offers the most delicious food creations from 2* Michelin chef, Dieter Koschina who will cook 12 dishes while entertaining and interacting with his guests at the same time!
DAY 05 - 1* MICHELIN SAO GABRIEL & CRAFT BEER TOUR
Enjoy lunch at 1* Michelin restaurant São Gabriel, a unique and creative cuisine combining traditional Portuguese flavours with a contemporary twist, displaying Chef Leonel Pereira's Algarvian roots. After this delicious treat, head to a personalised beer brewery tour and taste a selection of quality craft beers, blazing a new trail in Portuguese beer culture.
DAY 06 - CLAM PICKING, OYSTER TASTING & 1* MICHELIN GUSTO
Spend the day in the Ria Formosa with a local clam picker on a traditional fisherman's wooden boat, discovering the secrets of ancient clam picking. Enjoy the opportunity to visit an oyster nursery and sample their flavour accompanied by local sparkling wine. In the evening, enjoy vibrant Mediterranean cuisine that blends with cutting-edge Scandinavian-style design in 1* Michelin restaurant, Gusto by Heinz Beck. The restaurant features a lively open kitchen, a Cuban cigar menu and an alfresco terrace with views of the infinity pool.
DAY 07 - DEPARTURE
It is time to say "Tchau" to the beautiful Algarve and take your private airport transfer.
Inclusions:
Transfer from the airport to the Hotel and vv, 6-night stay at the Hotel Conrad in Deluxe Room including breakfast, all the excursions indicated in the itinerary and all dinners in the Michelin Star Restaurants as per itinerary.
For more information please contact:
Hélène Zinck
helene@algarve-lifestyle.com
Phone: +351 289 009 580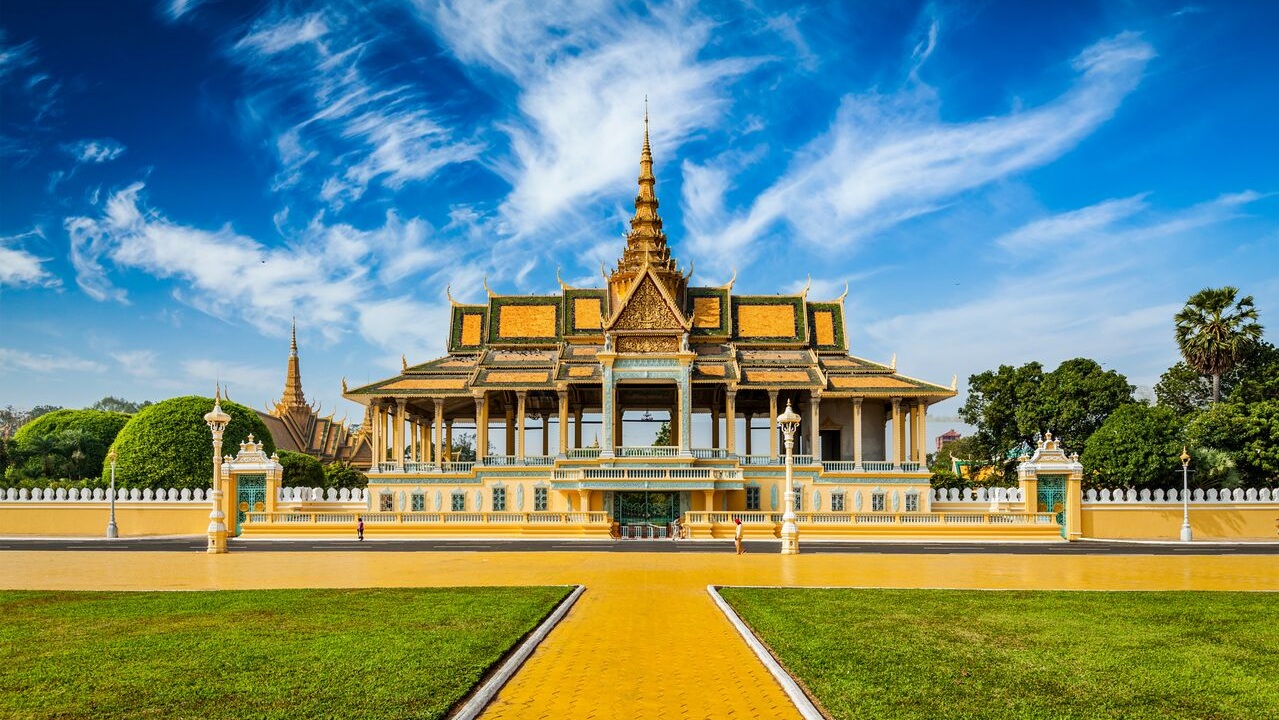 IDEA INDOCHINA
07 Days / 06 Nights
Beauty of Cambodia: From 01 April to 30 September 2019
From USD 800 (net) per person
sharing a double room
Day 01 – ARRIVAL – PHNOM PENH
Welcome to the capital of Cambodia, Phnom Penh. Known as the "Pearl of Asia", it was a hub for both the Khmer Empire and the French colonialists. Phnom Penh's shine was tarnished by the impact of war and revolution, but the city has risen from the ashes to take its place among the hip capitals of the region. Guests will be met at Phnom Penh International Airport for transfer to the Kravan Hotel.
Day 02 – EXPLORE THE PEARL OF ASIA
Explore the city that serves as the heart and business centre for the Kingdom of Cambodia. Phnom Penh is where the Tonlé Sap River joins the mighty Mekong. The Royal Palace stands majestically only a short distance from the Tonlé Sap River. Continue to visit the National Museum of Cambodia with its Khmer-style architecture, containing thousands of Khmer artefacts. End a fascinating day by walking around the Central Market. It is a large market constructed in the shape of a dome with four arms branching out into vast hallways with countless stalls offering authentic local merchandise.
Day 03 – PHNOM PENH – SIEM REAP
After breakfast, transfer to the airport for a flight to Siem Reap. Siem Reap is Cambodia's hip epicentre. It is filled with an impressive array of colonial and Chinese-style architecture. The town features notable boutiques, multicultural dining, enriching museums and relaxing spas, though its most revered site is the iconic Angkor Wat, situated in the heart of a UNESCO World Heritage Site. A symbol of Khmer genius, its imposing grandeur gives way to breath-taking bas relief carvings depicting historical mythology. Siem Reap is a city waiting to be explored. Guests will be met at Siem Reap domestic airport, for transfer to the hotel Memoire Siem Reap.
Day 04 – siem reap temples
After breakfast, visit the wonders of the Angkor Thom site, brimming with fascinating temples and monuments. Angkor Thom was a heavily fortified city built in the 12th century by the greatest of the Khmer rulers, King Jayavarman VII. Next you will see the Bayon, a late 12th or early 13th century temple, also constructed during the reign of King Jayavarman VII. Leaving the Bayon, stop to see the Elephant Terrace and the Terrace of the Leper King then onto the Baphuon, a vast temple built in the mid-11th century, which was in a state of ruin. After lunch, explore Banteay Srei, a 10th century temple, 13 miles northeast of the main temple group.
Day 05 – sunrise over angkor wat
Early in the morning, guests will be met in the hotel lobby and be taken to witness the sunrise over Angkor Wat. This is an unforgettable and quintessential Southeast Asia experience. Return to the hotel for breakfast, then see the fascinating Ta Prohm, which for many is the most romantic experience of Angkor. One of the most spectacular effects of the forest's encroachment on Ta Prohm is the way trees have grown into and around the towers and galleries. Late afternoon, visit the great lake of Tonlé Sap where you embark a traditional wooden boat and depart from Chong Khneas to visit a floating village on the lake.
day 06 - MONK BLESSING AND SUNSET COCKTAIL
After breakfast, guests will be met in their hotel lobby and escorted to a local pagoda to meet the resident monks and to offer alms. This will be followed by a Buddhist blessing ceremony. Afterwards, continue to Les Artisans D'Angkor to see the various training and production workshops in this arts and crafts school. The day ends with the unique surroundings of the "Sunset Over Angkor Thom". Time for photos and some interesting stories from your guide.
DAY 07 - DEPARTURE
After breakfast, guests will be met at their resort for transfer to Siem Reap airport.
Inclusions:
Accommodation sharing double or twin in the hotels indicated in the itinerary including breakfast, domestic flight from Phnom Penh to Siem Reap, all site entrance fees, all transfers by air-conditioned car, minivan or coach, all the excursions mentioned in the itinerary and a professional English-speaking guide.
For more information please contact:
Sothea Ou
sothea@ideaindochina.com
Phone: +855 12 480 600
THE BEST EXOTIC MARIGOLD TOUR INDIA
PerFect travels
11 Days / 10 Nights
The Best Exotic Marigold Tour
Departure dates: 6 April and 6 September 2019 (other departures dates on request)
From USD 1,445 (net) per person
sharing a double room.
Day 01 – Arrive at Delhi
Arrival at Delhi airport and transfer to your Hotel The Muse Sarovar Portico for a traditional welcome ceremony and overnight stay.
Day 02 – Delhi
After breakfast full day city tour. Back to the hotel for a traditional Indian dinner.
Day 03 – DELHI to AGRA
Drive to Agra to explore the city and see the Taj Mahal at sunset. Evening traditional Mughlai dinner overlooking Taj Mahal from rooftop of Clarks Shiraz Hotel where you stay overnight.
Day 04 – Agra to Kanota
The day begins with a Sunrise Grand Tour of Taj Mahal. After Breakfast drive to Kanota (230 Km). Enroute visit Chand Baori Stepwells from the film Best Exotic Marigold Hotel then onto the village of Kanota for check-in at the Hotel Castle Kanota. Rest of the day at leisure to explore this site that was filmed as the Viceroy Club in the movie "Best Exotic Marigold Hotel". The Castle offers a charming and relaxed evening with dinner.
Day 05 – KAnota to jaipur
After Breakfast drive (25 Km) to the city of Jaipur, pink-washed capital of the princely state of Rajasthan. Check in for dinner and overnight stay at Heritage Hotel Narain Niwas Palace. In the evening, enjoy a Bollywood Blockbuster at a heritage Indian cinema called Raj Mandir.
DAY 06- JAIPUR
Breakfast at the hotel. See the sights of Jaipur, including the Palace of Winds and also tribal dancing. After the tour, we visit a traditional Indian family home to indulge in an ethnic Indian cooking class followed by dinner.
DAY 07 - JAIPUR TO PUSHKAR
After Breakfast drive (150 kms) to Pushkar city, where you will be met by our representative and transferred to the Heritage Hotel Pushkar Palace. Explore the city of Pushkar, Pushkar Lake and a tribal street bazaar. Watch the sun set over the desert followed by dinner at the hotel.
DAY 08 - PUSHKAR TO KHEMPUR
After Breakfast drive to Khempur (270 Km) and check in at the real Best Exotic Marigold Hotel, Heritage Hotel Ravla Khempur. Stroll around its quirky village and have high tea with royalty. Back to the hotel to enjoy dinner.
DAY 09 - KHEMPUR TO UDAIPUR
After Breakfast drive to Udaipur city, (60 kms) princely state from British India aka the lake city of Udaipur. Watch the sun set over the 19th century Monsoon Palace. Dinner and overnight stay at the boutique Hotel Fateh Niwas near Pichola Lake.
DAY 10 - UDAIPUR
After breakfast Udaipur full day city tour begins. In the evening enjoy a Sunset Boat Cruise on the shimmering Lake Pichola to view the sparkle of Udaipur by night including the 17th century Pleasure Palace on Island 'Jagmandir' and the world famous 'Lake Palace' of India, popular amongst Hollywood films. After the tour you will be transferred back to your hotel to enjoy dinner at an outdoor restaurant overlooking the lake.
Day 11 – Departure from UDAIPUR
After breakfast, morning transfer to Udaipur airport.
Inclusions:
Transfer from and to airport, assistance with check-in and check-out at each hotel, tour fully escorted by expert English speaking local guide, air-conditioned vehicles with driver, admission to all monuments as listed in the full itinerary, half-board during the whole itinerary including breakfast and dinner, tipping/gratuities for guide and drivers, 10 nights accommodation in 3 and 4 star hotels, current Goods & Service Tax (GST).
For more information please contact:
Adi Bajaj
adi@perfecttravels.net
Phone: +91 11 25 724 462 or 91 11 25 721 861
MEKONG LUXURY CRUISE WITH PRE AND POST STAY
LOTUS CRUISES
10 Days / 09 Nights
Mekong River Cruise and pre-post stay in Ho Chi Minh City and Siem Reap - Departure dates: 06-13-20/Oct/2019, 17-24/Nov/2019.
From USD 2,699 (commissionable) per person
sharing a double room.
Day 01 – Arrival at Ho CHI MINH CITY
Guests will be met at the airport for their transfer to the Hotel Des Arts Saigon, MGallery Collection. Day at leisure in Ho Chi Minh City.
Day 02 – HO CHI MINH CITY to MY THO
After breakfast, continue exploring Ho Chi Min City and in the afternoon guests will enjoy a scenic drive to the port of My Tho. From here begins the journey upstream aboard the luxurious Mekong Navigator.
Day 03 – CAI BE / SA DEC
Following breakfast, tour the historic An Kiet House set in beautiful gardens then a contrasting visit to a traditional rice factory. In the afternoon upon arrival at Sa Dec guests stop at a local brick factory to see the complete process of brick-making from Mekong River clay. Back in Sa Dec, a short visit will be made to the home of Mr. Hyun Thuy Le from the L'Amant movie.
Day 04 – LONG KHANH A (HONG NGU) / BORDER CROSSING
Visit the local island village of Hong Ngu and see the local temple dedicated to a unique religion founded in this area of Vietnam, Hoa Hao. Evening entertainment will be provided by the culinary team as they demonstrate the art of Vietnamese and Cambodian cooking.
Day 05 – PHNOM PENH /OVERNIGHT
After breakfast, guests will meet their cyclo driver for an exciting morning city tour of Phnom Penh and a free afternoon in the city with a variety of optional excursions to choose from. Before dinner, local children entertain guests on our Sun Deck with a cultural performance including Apsara, Cambodia's national dance as well as local traditional folk dances.
DAY 06- PHNOM PENH
Visit to the Choeung Ek killing fields, where guests will walk through the fields, visit the small museum and memorial stupa, and learn more about the atrocities committed during the Khmer Rouge regime. Guests will also tour Tuol Sleng, the former school that was converted into the main prison and torture headquarters of the Khmer Rouge.
DAY 07 - ANGKOR BAN
Visit the charming town of Angkor Ban, taking in a visit to a family's home to see how the locals live. Continue through the village to the local school and join the children in their classroom and experience a typical school day.
DAY 08 - WAT HANCHEY / KAMPONG CHAM
During the morning, guests visit a local secondary school then take a walk up the hill to the Wat Hanchey to receive a traditional Buddhist Water Blessing. Following lunch, guests enjoy a drive through the city of Kampong Cham to visit the hills of Phnom Pros and Phnom Srei, the incredible stupa, and the 13-meter tall preaching Buddha. Today's final visit is to the 12th century complex of Wat Nokor Bachey,
DAY 09 - KAMPONG CHAM / SIEM REAP / DISEMBARKATION
Following breakfast guests will transfer from Kampong Cham to Siem Reap and check in to the Hotel Sofitel Angkor Phokeethra Golf & Spa Resort and enjoy the rest of the day at leisure.
DAY 10 - SIEM REAP
Breakfast at the hotel and in the morning transfer to the airport for departure.
Inclusions:
1-night stay in Ho Chi Minh City and 1-night stay in Siem Reap in 5 star hotels including breakfast, 7 nights onboard the luxurious Mekong Navigator including all meals, complimentary wine, beer and soft drinks for lunch and dinner onboard, champagne welcome reception, wine pairing dinner, specialty coffee and fine tea selection at Le Salon available all day, complimentary daily sundowner cocktail, draft beer and spirits, complimentary water during excursions, complimentary wifi onboard, expert local guides, port charge and gratuities, all the excursions and transfers.
For more information please contact:
An Vu
reservations@lotuscruises.com
Phone: +84 28 5410 7882
For more information
please contact:
EUROPE
Marco Rosa
marco@plateauinternational.com
Mobile +44 7973 876967
AUSTRALIA
Sandra Cahill
sandra@plateauinternational.com
Mobile +61 499 344 919